LAUDERDALE ISLES WATER MANAGEMENT DISTRICT
Protecting Lauderdale Isles Waterways since 1970


​ THE LAUDERDALE ISLES WATERWAY CLEANUP ON SEPT 22nd WAS A TREMENDOUS SUCCESS
Watch for pictures in the November LICIA newsletter

We are in the process of upgrading the website. Please check back frequently.

THIS SITE IS BEST VIEWED USING A PC, NOT A MOBILE DEVICE
SEPTEMBER 2018:
​DUCKWEED AND ALGAE IN LAUDERDALE ISLES CANALS
Click on links to the left to get the story


---
history and purpose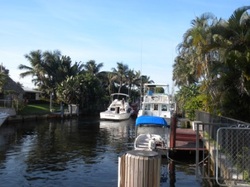 One of the beautiful canals of Lauderdale Isles
The LIWMD was created as a dependent special district by the Broward County Commission in November, 1970, for the purpose of protecting the water quality of the waterways in Lauderdale Isles. The district became a dependent district within the City of Fort Lauderdale when the city annexed Lauderdale Isles in 2002.
The primary duty of the district has been aquatic weed control in our canals. The current board of commissioners of the LIWMD is in the process of expanding the role of the district beyond aquatic weed control. Some of the issues being addressed are: water quality, dock construction, derelict boats, consumption of fish and blue crabs, dilapidated docks, canal depths & obstructions, canal debris, nuisance alligator control, waterway clean-up, safe navigation, and waterway safety. This new web site is being developed as a one-stop source for all matters regarding the waterways of Lauderdale Isles. We welcome any suggestions you may have. Feel free to send them or any questions to us using our "
CONTACT US
" page on this site.
Next Meeting Date Monday, March 4, 2019, at 2:00PM
Location: City Hall, 100 N. Andrews Ave, 8th Floor Conference Room
All meetings are open to the public.
---
LIWMD CONTACT INFO
:
Postal Address
: Lauderdale Isles Water Management District, PO Box 122271, Ft. Lauderdale, FL 33312
Email
: Geoff Rames, Chairman:
grames@liwmd.org
Ken Stauch, Secretary/Treasurer:
kstauch@liwmd.org
Ben Sorensen, Commissioner, District IV, City of Fort Lauderdale:
Bsorensen@fortlauderdale.gov
Larry Teich, City Liaison, Fort Lauderdale Environmental Services:
lteich@fortlauderdale.gov
Updated 2/7/19