fort lauderdale's canal cleaning program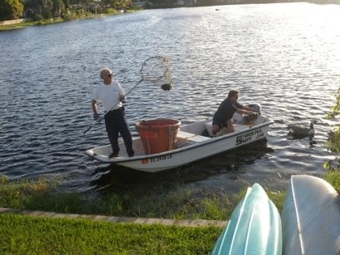 City's crew busy on small skiff
Usually toward the end of the month, you may have noticed a pontoon boat slowly navigating down your canal with a two man crew, removing coconuts, palm fronds, trash, and other floating debris from the water. It's the City of Fort Lauderdale's Canal Cleaning Department, hard at work.

In years past, canal cleaning was the job of the Public Works Department. However, with the last major reorganization of city departments, the canal cleaning crew comes under the purview of the Parks & Recreation Department. Previously, there were two crews to cover all the canals of the city. Due to current budget constraints, there is just one two-man crew, yet they are able to clean all the canals in the city once per month.

The crew has two boats at their disposal: the familiar pontoon boat we see in Lauderdale Isles canals, and a Carolina Skiff, used for smaller, shallower canals. The skiff is trailered throughout the city as required.

The canals of the city are divided into sections, and the crew works different sections each week as part of their monthly schedule. Our canals are in Section 13, and are regularly scheduled for the last week of the month. The crew also responds to work orders, which are requests placed through the city's Customer Service line, for specific cleanup problems such as trees that have fallen into a waterway. Work orders are usually handled the next day, which sometimes delays the regularly scheduled cleanings by a day or two.

Recently, the crew responded for a large tree that fell into a canal, which took them almost a week to clear. If a tree located on public property falls into a canal, the department will handle it. However, if the fallen tree was located on private property, then it is the property owner's responsibility to remove it.

If you need the canal cleanup crew to respond to your canal for a specific unusual problem, call the City's Customer Service number (954) 828-800 with your request.

In the meantime, if you see debris like coconuts, palm fronds, cans,or plastic bags, in the canal, please do your part to remove them and put them in your trash container. The propeller you save just might be your own!

Thanks to Corey Callier with Fort Lauderdale Parks & Recreation for providing this information about the Canal Cleaning Department.


---